➜ " pepperoni-cheesy.blogspot.com "
,
Tuesday, April 28, 2009 / 6:00 PM

I'm back! To post something juicy up here of cos, when have i ever let this matter off the hook easily anyway hahaha! I think Michelle makes a good friend because she knows i'm very particular about such thing and guess what she helped me on this time round? :D a copydog's link! Her page is like a total replica of mine! Wait till you see this: (those parts highlighted in pink are what im referring too)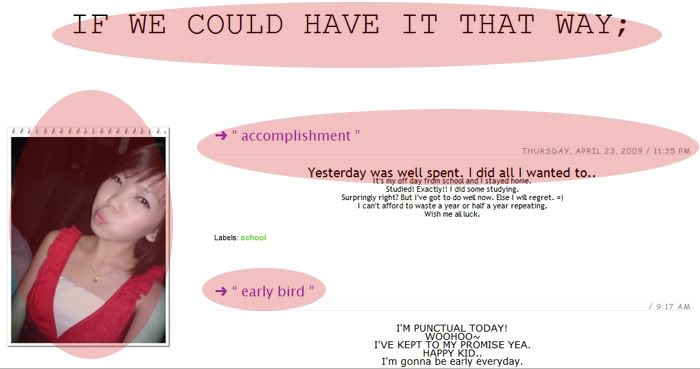 Wtf is wrong with these people- the rippers! But this copydog more hiong than the previous one LOL is like 90% similar to mine. Everyone knows most of my blogskins i start from stratch and though it has been through inspirations from bits and pieces, i dare say this kind of creativity is one-of-the-kind la dey! Tell me which 2 person on Earth will come up with a 90% similar blogskins eh! Obviously you ripped from me right! Disgusting sia. Now you may say "I'm not guilty about anthing. Say whatever shit you want. I don't give a damn." HAHAHAHAHHAHAAAAH guess right after this post is up, u're going to dig into the loser acts- either lock up ur damn blog or change ur link. Dont gimme all sorts of excuses what never view my blog or da bian la ok. If you do not know, how the fuck u get my blog shop link!!!! -.-" oh. friend gave you eh? ooooooh.
CUT THE CRAP LAH SERENA CHEN!!!
bullshit only u.
I got my inspiration frm here:
http://blogskins.com/apply.php?sid=223201&action=Preview
Not even 40% similar to my current skin leh auntie! -.-
http://pepperoni-cheesy.blogspot.com
http://pepperoni-cheesy.blogspot.com
Saturday, April 11, 2009 / 10:34 PM

My blog is here for me for myself and not for some old CC coming in here to rip more stuffs than she shouldn't have even try in the first place. What a
D
isgusting dog.
Saturday, February 21, 2009 / 11:47 PM

I feel like shifting house. another place for me to blog.
Try
http://youtofindout.livejournal.com/
now.
Add to read babesss!
Meantime, do help to click on my Nuffnang advert? tyvm! :D
Friday, February 20, 2009 / 11:59 PM

I dig doing grocery shopping on my own. It would have been better if Mom comes along with me (that is if she remembers to bring her atm card along of course) but anyway i manage to get what need for
two-more-row's
big day with Mbj. which stands for Felica fyi.. shan say what we're doing because it has been a common thing recently which sorta makes me think twice about carrying it out. But i dont care anymore, because this has been OUR plan since 3-4 months ago! and i dont care what they say. i care more about the weather than to go over trival matters like this, hello?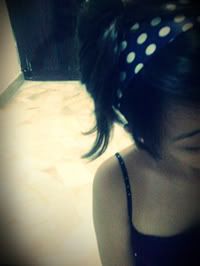 Missesssss yoooooo... .. .
Labels: random
➜ " Party like a Cockstar "
,
Thursday, February 19, 2009 / 6:08 AM

It's Six in the morning now and i cant believe im still not in bed but here! Normally, with my mom at home, the nags from her to get me in bed would start as soon as the clock srike 12AM.. so glad am i now that she finally decided to take a break from home.
11.02.2009
Another night of partying! But before the real craze starts in the club, i spent the entire afternoon deciding what to wear. Today i felt the difficulty to fish out a top that can easily go with my high-wasited skirt. I actually msned some friends for advice, only till they signalled me the OKAY-sign on my getup then did i leave house for Boyfriend's, at ease.
While on his way to meet his friends at night, he was kind enough to drop me nearby Zouk where i met up with Yiling first, then came BabyC and Cheryl shortly after. As soon as we get our Phuture stamp we took a cab down to Dblo with the intention to get in for their free flow of drinks while waiting for Shirley, but only to discover dismal--because slippers weren't allowed and it so happens that Yiling and BabyC worn them. Thank God this did not allow us to mark the end of our day because we still had Shirley to bring shoes for them! :D and since it was close to twelve by the time
S
arrived, we quickly took our last free drinks, and bought ourselves beers from 7-11 store before we returned to Zouk.
All in all, a party day which allows me to meet up with friends i hardly can dig time out for. Many familiar faces around and nonetheless i still bumped into people i dont wish to entertain. But one good thing would be.. i found my Miss OMG partner, Michelle!! :>
Breakfast along Upper Thomson for mee pok(or pork, whichever) which
C
and
YL
recommended.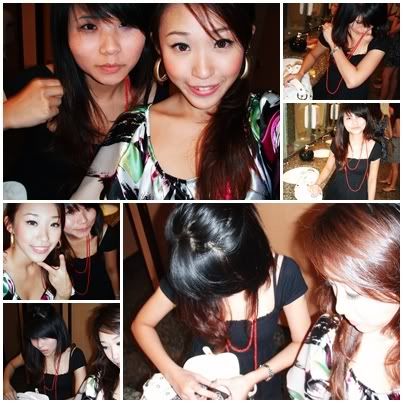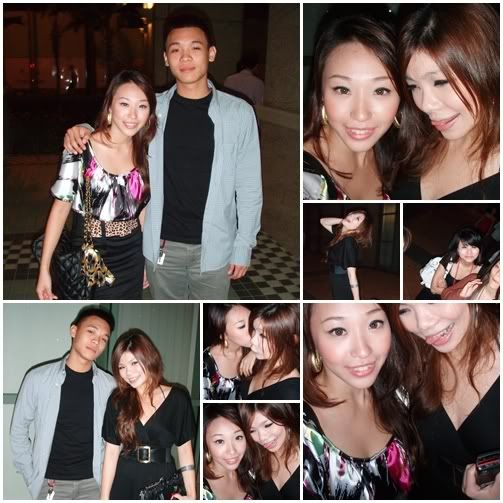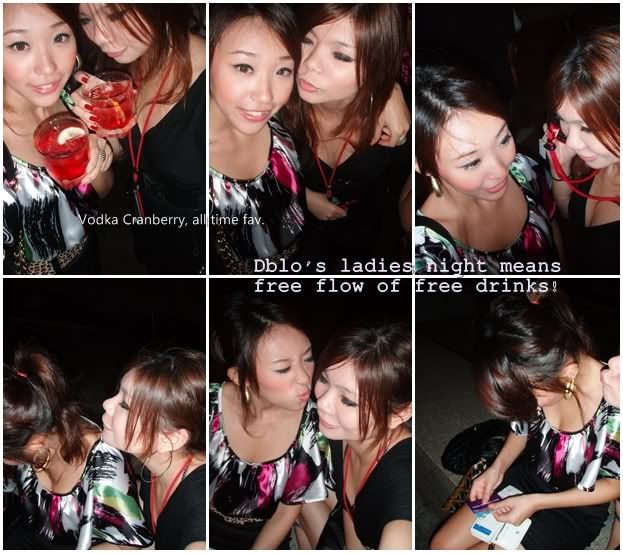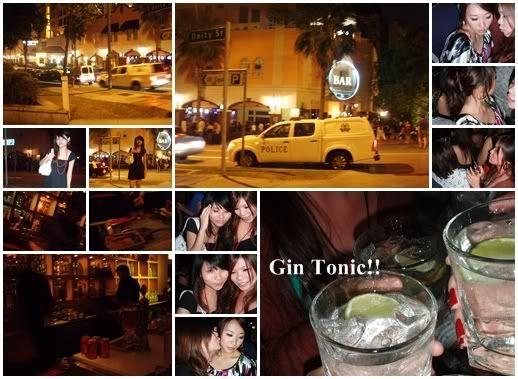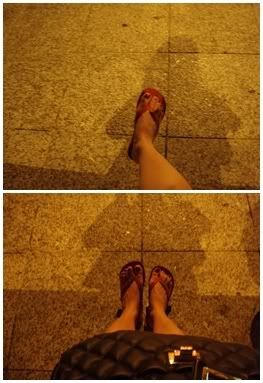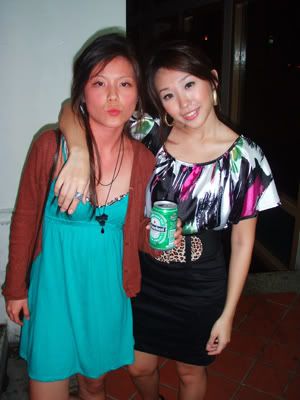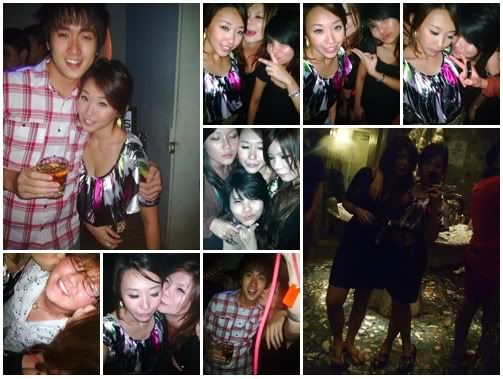 Met Charles!
Other than spotting him in school and class, another one common place we can find each other would be in Zouk!



Labels: BabyC, clubbing, polymates, YLing, Zouk
➜ " Lazy--my new friend. "
,
Wednesday, February 18, 2009 / 11:31 PM

Monday, 16th
Mom left for KL in the morning and will only be back 4 days later.
Boyfriend stayed over and brought dinner home! :D
Tuesday, 17th
Loverboy left for camp in the morning.
Waking up to hate my Dad more, because whenever Mom isn't around, he thinks he's the only one at home. Like hello, cant u sense my presence? yah yah yah im totally invisible that he has the habit of walking around just.with.his.underwear.on WHAT THE FARK please! Sometimes i really wonder why do i even have such a father.
Met up with Baby again and we headed over to his place. had my last sleepover before he has to go for sailing the next day till Sunday :( and while he remains busy with his own stuffs, i digged through his past photos and autograph book,
and guess what i found???
So coincidence that when i was his age, i was wearing exactly the same top as his! Titanic! omg i cant get enough of it back then, i even had Princess Diana photo printed on a tee HAHAHHAA! It just so happens that the place my aunt bought the tees for me has it and i love her so why not? :0 hahaha and the lil' boy next to him? You guys should know if u're a die-hard fan of Jack Neo's films.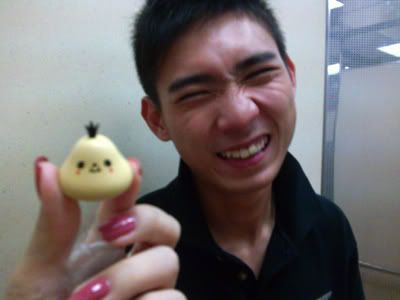 Loverboy & i dropped by Geylang and bought back 5 bowls of soya beancurb.. and an eggtart for myself!
TODAY, Wednesday, 18th
Cabbed home in the noon with a plan to meet Elainey for Supperclub but called it off instead. Had dinner together where i brought her to try the nice Pasta at Hougang Plaza. This time, i tried something different and it wasn't that good. Too many clams i would say.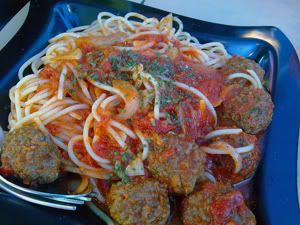 E's and mine.
She prefers mine while i like hers.
/ 9:01 PM

12.02.2009



.
.
.
.
.
.
.
.
.
.
.
.
.
.
.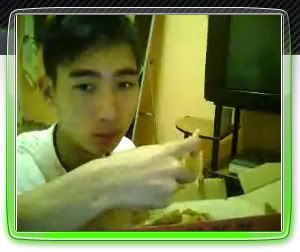 Only to see him eating the pizza leftover happily! >:(
& baby just had a haircut, doesnt he looks like a pineapple? HA!

Just bought Twilight Eclipse and Breaking Dawn few days ago.. time to continue my vampire story, omfg, Edward Cullen! Just the kind i want for my husband.